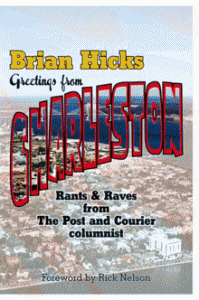 Join us Friday, October 28 at noon for Blue Bicycle Books Charleston Author Series luncheon at High Cotton, with Charleston's own Brian Hicks for the release of his latest book, Greetings from Charleston: Rants & Raves from The Post and Courier Columnist, a compilation of columns by Hicks with a foreword by Post and Courier Managing Editor Rick Nelson.
Greetings from Charleston collects the best and most notorious of Hicks columns as chosen by Hicks and Nelson. And, the book features brand-new commentary and columns never-before-seen in print, as well as behind-the-scenes tales from the guy whose only job description is to stir it up.
Tickets are  just $31 for the author talk and delicious three-course luncheon at High Cotton, or $56 that includes the luncheon plus a signed, hardcover copy of Greetings From Charleston.
To Purchase: http://www.brownpapertickets.com/event/2705804